Comune di Capannori

Starting from June 2016 until the end of maintenance, the 0.60 m f/9.83 Cassegrain reflector will be in maintenance. Stay tuned (read this homepage) in order to know when it will became available again.
HOW TO BOOK AN EDUCATIONAL VISIT TO OAC
Visiting OAC is free of charge, but you need to make a reservation.
People who want to book a visit to OAC are asked to make ONLY ONE of the following choices:

1. Preferably send an e-mail to: public.outreach@irf.lu.it specifying first, last name and especially the number of people involved.

2. ONLY for those who don't have (or are not able to manage) an e-mail, phone to Ostello "Il Rio di Vorno" via del Folle Manzi, 1 - 55060 Vorno Capannori (LU) tel +39 0583 97108 - Managers Mrs. Antonella Romanini and Mrs. Yvonne Mori;
WARNINGS:
A) Please DON'T exceed the number of booked persons.

B) We will accept booking for a night ONLY until 5 days before that night.

C) Please remember that the public outreach activities carried out at OAC, although performed at an elementary level, are for a generic (adult) public, and are not specifically tailored on children; so, although whoever can have access at OAC, we don't recommend them for children younger than 10 or 12 years.
HOW LONG DOES IT TAKE TO PERFORM A PUBLIC OUTREACH NIGHT?

Users of public outreach nights should be at OAC at 21:00 (in winter time) or at 22:00 o'clock (in summer time).
Usually, if there are no troubles with the clouds, equipments and so on, the observing night for public outreach activities ends by 23:30 or 24:00 o'clock.
If there are severe troubles with the clouds the public outreach activities end earlier.
But it is not mandatory for the users to stay at OAC until the end of the activities.

HOW TO BEHAVE ACCORDING TO WEATHER REPORTS IN PUBLIC OUTREACH NIGHTS AT OAC (VISITING OAC)


The ways to get access to OAC in public outreach nights vary according to the weather conditions.

1. If the night sky is clear or almost clear, then that public outreach night is performed according to what scheduled.

2. If the night sky is cloudy but without precipitations, or there are no weather reports of storms and Tuscany Region has not stated a weather alert bulletin, then we discourage you to go to OAC, but OAC's staff is still at OAC in order to offer a short visit to those who want to see only OAC observatory without contemplate stars and other night sky objects.

3. If there is fog, rain, extreme wind, hail, snow or storms, or there are weather reports of storms in that night and/or Tuscany Region stated a weather alert bulletin for that night for Lucca province, then that public outreach night is cancelled because of adverse weather conditions, and OAC's staff stays at home.
HOW TO BEHAVE AT OAC (IN GENERAL)


1. Please remember that at OAC is forbidden to smoke.
2. Please remember that at OAC is forbidden to enter with animals (even inward the fence outside the main building)
3. Please pay attention not to make damages to the instruments at OAC
4. Please try to behave in a way good for your own safety
5. Please remember that the suggestions given to you by OAC's staff are for a better use of OAC, and try to follow them
6. Please be on time when you come at OAC for outreach activities
7. Please, do not eat food or drink at OAC (even in the fence outside of the main building)
8. Remember that OAC's staff is at your disposal about any astronomical question
HOW TO ASK FOR SCHEDULED TIME FOR SCIENTIFIC PURPOSES


People who are involved in scientific research are asked to click here in order to open a sub-page with the e-mail link. Please don't send here e-mails in order to book for a visit.
For visiting OAC send an e-mail to public.outreach@irf.lu.it as stated above in the paragraph "How to book an educational visit to OAC".
Requests for observing time for scientific research should be sent (to the above mentioned email address) to the Time Allocation Committee, which is the same as 'Consiglio Direttivo Scientifico'.
HOW TO REACH THE OBSERVATORY


The OAC is located near the village of Vorno. Once you reach the church of Vorno, you should take the street named Via di Valle just beside the bell tower. Then go uphill along Via di Valle for about two km.
The observatory is located atop Gallonzora mountain, on the left side of the street, about 200 meters before the road becomes unmade. Just here you can find also the road sign of OAC.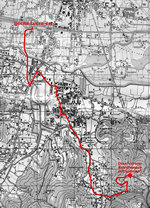 Click the map to enlarge it
Map of the region of OAC with a path linking the Lucca East exit of the A11 motorway to the location of OAC
Updated on January 2018
_______________________________________________________

A partire da Giugno 2016 sino a fine lavori, il telescopio riflettore Cassegrain da 0.60 m f/9.83 sarà in manutenzione. Rimanete in contatto (leggendo questa homepage) per sapere quando sarà nuovamente disponibile.
COME PRENOTARE UNA VISITA DIVULGATIVA ALL'OAC


La visita all'OAC è gratuita, ma è necessaria una prenotazione.
Coloro che vogliono prenotare una visita divulgativa all'OAC sono pregati di effettuare SOLO UNA delle seguenti scelte:

1. Per coloro che hanno accesso alla posta elettronica, inviare una e-mail a: public.outreach@irf.lu.it specificando il nome, cognome e soprattutto il numero di persone che richiedono la prenotazione.

2. SOLO per coloro che non hanno (o non sono in grado di gestire la posta elettronica), telefonare all'Ostello "Il Rio di Vorno" via del Folle Manzi, 1 55060 Vorno Capannori (LU) tel +39 0583 971081 - Responsabili Sig.ra Antonella Romanini and Sig.ra Yvonne Mori;
NOTA BENE:
A) Per favore, NON venire all'OAC in numero superiore a quello prenotato (a causa del ridotto spazio interno disponibile).

B) Si accettano prenotazioni per una specifica serata divulgativa SOLO fino a 5 giorni prima della serata in questione. Ossia NON ci si può prenotare negli ultimi 5 giorni (e men che mai nelle ultime ore) prima di una certa serata.

C) Per favore, considerate che le attività di divulgazione astronomica che si svolgono all'OAC, anche se tenute a un livello elementare, sono per un pubblico generico adulto o (al più) formato anche da adolescenti; pertanto (premesso che all'OAC può venire chi vuole) non le consigliamo per bambini di età inferiore a 10 - 12 anni.

DURATA DI UNA SERATA DIVULGATIVA (VISITA GUIDATA)


Gli utenti di una serata di divulgazione (visita guidata con osservazione) dovrebbero essere presenti all'OAC alle ore 21:00 (ora solare) in orario invernale, e alle ore 22:00 (ora legale) in orario estivo. Così come indicato per ciascuna notte nella sub-page "Eventi" di questo sito.
Di solito, se non ci sono problemi con le condizioni meteo o con gli strumenti, una serata divulgativa finisce verso le ore 23:30 o 24:00.
Se ci sono criticità con le condizioni meteo la serata finisce prima.
Ovviamente gli utenti non sono obbligati a restare fino alla fine delle attività divulgative di una certa serata e, se lo ritengono, possono andar via prima.
COME COMPORTARSI A SECONDA DELLE CONDIZIONI METEO NELLE SERATE DI DIVULGAZIONE ALL'OAC (VISITE DIVULGATIVE)


A seconda delle condizioni meteo variano le modalità di accesso e fruizione all'OAC per le attività divulgative notturne.

1. Se il cielo notturno è sereno o quasi sereno la serata divulgativa viene effettuata come previsto.

2. Se il cielo notturno è nuvoloso o coperto ma senza precipitazioni, e senza previsioni di precipitazioni, e la Regione Toscana non ha emesso bollettini di allerta meteo per la provincia di Lucca, allora si sconsiglia di venire all'OAC, ma il personale dell'OAC è comunque presente per offrire una breve visita guidata a coloro che eventualmente vogliono solo visitare l'OAC senza osservare gli astri.

3. Se sono presenti nebbia, pioggia, vento estremo, grandine, neve, o peggio temporali, o previsioni meteo di temporali o rovesci in nottata e/o la Regione Toscana ha emesso allerta meteo per la provincia di Lucca, allora la serata è annullata a causa di condizioni meteo avverse e il personale dell'OAC non si reca nemmeno all'OAC
COME COMPORTARSI ALL' OAC (IN GENERALE)


1. Per piacere ricordarsi che all'OAC è vietato fumare.
2. Si ricorda che all'OAC è vietato introdurre animali (anche dentro il recinto al di fuori dell'edificio principale)
3. Per piacere fare attenzione a non danneggiare le strumentazioni presenti all'OAC
4. Si prega di comportarsi in modo da non mettere a rischio la propria sicurezza personale
5. Ricordatevi che i suggerimenti forniti dal personale dell'OAC sono per una migliore fruizione dell'OAC stesso, pertanto si consiglia di seguirli
6. Si prega di essere puntuali quando si arriva all'OAC per le serate di divulgazione o didattica; in inverno la serata inizia alle ore 21:00, in estate inizia alle ore 22:00
7. Si prega di non mangiare nè bere presso l'OAC (anche dentro il recinto al di fuori dell'edificio principale)
8. Ricordate che il personale dell'OAC è a vostra disposizione per domande di astronomia
COME RICHIEDERE TEMPO OSSERVATIVO
PER ATTIVITA' SCIENTIFICHE


Si invitano i ricercatori coinvolti in attività scientifica che vogliono richiedere tempo osservativo al Consiglio Direttivo Scientifico (C.D.S.) dell'OAC di cliccare qui per inviare una e-mail. Per piacere NON cliccare sopra per prenotazioni di visite divulgative; per visite divulgative inviare una e-mail a: public.outreach@irf.lu.it come specificato precedentemente nel paragrafo "Come prenotare una visita divulgativa all'OAC".
Il C.D.S. decide autonomamente e inappelabilmente se accettare o rifiutare la proposta.
COME RAGGIUNGERE L'OSSERVATORIO


Per giungere alla struttura, è necessario recarsi al paese di Vorno. Arrivati di fronte alla pieve, imboccare via di Valle, la prima strada a destra della chiesa. Quindi seguire la strada principale per circa 2 km, salendo la collina.
L'Osservatorio si trova sul Monte della Gallonzora, sul lato sinistro, circa 200 metri prima dell'inizio della strada sterrata ed è contrassegnato da apposite indicazioni.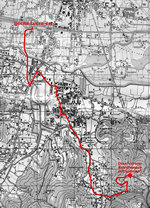 Click sulla mappa per ingrandirla
Mappa del sito dell'OAC con il percorso da effettuare dall'uscita Lucca Est dell'A11
Aggiornato a gennaio 2018